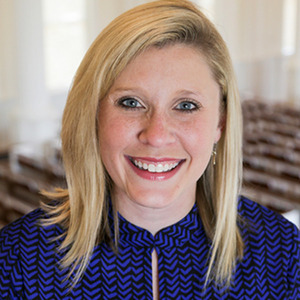 Rev. Carrie Weatherford Associate Pastor - Children and Family Ministries
Co-Host of Roswell Presbyterian Church
Rev. Carrie Weatherford is RPC's Associate Pastor for Children and Family Ministries, as well as the pastor that works with RPC's Stephen Ministry. Carrie feels called to engage, educate, and equip children and families both in church and on their faith journeys. She is also passionate about the RPC community and caring for each other as a family of faith.
In 2016, Carrie graduated from Columbia Theological Seminary with a Masters of Divinity. She has a bachelor's degree in Education from the College of Charleston with a minor in Psychology, and she is certified by the State of Georgia in early childhood and middle grades education. Prior to working at Roswell Presbyterian, she taught middle school in Cobb County.
In her free time, Carrie enjoys swimming, running, and reading. However, her favorite thing to do is spend time with her family. Carrie is married to Jason and they have two sons, Cooper and Taylor, and a dog named Jackson. The Weatherford family loves calling Roswell home and being a part of this great community.
Rev. Carrie Weatherford Associate Pastor - Children and Family Ministries has hosted 11 Episodes.