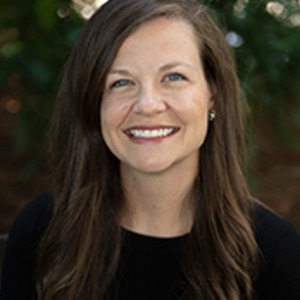 Rev. Lyndsay Lee Slocum, Executive Pastor
Co-Host of Roswell Presbyterian Church
Lyndsay is passionate about walking alongside families in their discovery of a God who loves unconditionally and helping them learn to worship, pray, and serve together. She is also called to serving marriages, parents, families, and the RPC community.
Lyndsay grew up in the Columbia area of South Carolina and is very proud to be a Carolina girl. She graduated from Presbyterian College with a degree in Christian Education and then headed to Columbia Theological Seminary where she graduated with a Masters of Divinity in 2004. During her time in seminary, Lyndsay worked at Peachtree Presbyterian Church with the middle school ministry.
Lyndsay joined the Roswell Presbyterian Church staff in 2005. She is married to Scott and they have two sons, Brandon and Drew, and a puppy named Ziplock. The things she cherishes the most include moments of deep laughter that make her eyes water and her stomach muscles sore, the fact that her boys will still hug her in public, almost any kind of cheese, sharing the table with others as sacrament and holy connection, and the transformative grace of Jesus Christ as she witnesses it in unexpected places.
Rev. Lyndsay Lee Slocum, Executive Pastor has hosted 17 Episodes.